Turn on intelligent automation from Solvvy to deliver speed and consistency across all support channels
Whether you're a marketplace or in the gaming space, whether you're a product company or a SaaS company, whether you're in Internet services, or for that matter, in subscription services, AI powered self-service from Solvvy can help you improve customer experiences across different industries.
Internet and Consumer Services
Solvvy allows you to provide your users instant resolutions pertaining to how-tos, product features and more, across multiple support channels. This can dramatically up your user engagement levels.
E-Commerce and Marketplaces
Intelligent self-service from Solvvy provides fast answers to consumers in their purchase cycle, thus helping them complete their transactions.
SaaS
Automation hugely helps SaaS providers to onboard their users by answering the common questions around product features in the most timely and accurate manner.
Gaming
When you're a gaming company, you want to do avoid interruption of game play at all costs. Solvvy lets you do that and much more by providing 24x7 automated support at a size and scale unimaginable before.
Consumer Products
When you're selling consumer products, turning to self-service is a no brainer. Not only does it help with reduced ticket volume and instant resolutions but also decreases the operating cost for the organization.
Subscription Services
Intelligent self-service from Solvvy can field constant support requests around billing, renewals and cancellations at speed and scale.
Trusted by the world's leading brands for delivering exceptional customer experiences
"Solvvy is great for improving First Contact Resolution because it gives our customers fast, reliable and accurate answers. We are beating our goals."
Yael McCue, Customer Support Leader

The only

self-service platform

designed for the modern enterprise.
Years

600+

The time Solvvy has saved end users to date

Minute

1

Average resolution time on Solvvy

Decrease

25%

Decrease in "average time to resolution" support cases

Million

200

Number of users that Solvvy supports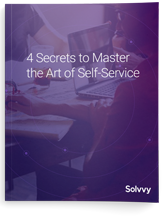 4 Secrets to Master the Art of Self-Service
As you juggle competing priorities like retaining your top talent, reducing ticket volume and driving cost savings all while increasing NPS and CSAT scores, you want to leverage the power of self-service to hit your top KPIs. Watch our 30-minute on-demand webinar to learn about the key self-service metrics, how to reduce ticket volume, fill crucial gaps in your knowledge base and the more.
Read More

See Solvvy in Action
Learn more about how Solvvy can resolve your greatest customer experience issues. Contact us day or night and we will get back to you right away! Call us at 650-246-9685.
Live Demo
Contact Us