Turn your customers into brand advocates with effortless self-service
Whether you're selling your products and services to businesses, consumers or developers, intelligent self-service can help you answer customer questions in the fastest, and the most relevant and accurate manner.
B2C
Solvvy lets you deliver on all your key support metrics such as CSAT (Customer Satisfaction), CES (Customer Effort Score) and FCR (First Contact Resolution) by providing instant resolutions to customer questions.
B2B
Solvvy lets you optimize your contact center investment by reducing ticket volume. Its advanced machine learning algorithms can also make your knowledge base more effective by detecting crucial gaps.
B2D
Solvvy's intelligent self-service solution does a great job of freeing up your technical resources from low priority ticket items and becoming more productive. This also results in huge cost savings for the organization.
Trusted by the world's leading brands for delivering exceptional customer experiences
"Solvvy gives customers a better experience that saves them time. With Solvvy, we deflect over 10% of our tickets. The cost savings is significant and now we have additional budget to invest elsewhere"
Joe Wang, Director of Customer Support, Upwork

The only

self-service platform

designed for the modern enterprise.
Average

17%

The average self-service resolution rate for Solvvy customers

Million

200

Number of users that Solvvy supports

of People

8%

Those who think companies deliver "superior" customer service

of Consumers

59%

3 in 5 consumers would try a new brand or company for a better service experience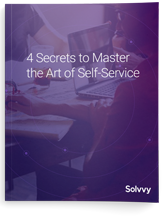 4 Secrets to Master the Art of Self-Service
As you juggle competing priorities like retaining your top talent, reducing ticket volume and driving cost savings all while increasing NPS and CSAT scores, you want to leverage the power of self-service to hit your top KPIs. Watch our 30-minute on-demand webinar to learn about the key self-service metrics, how to reduce ticket volume, fill crucial gaps in your knowledge base and the more.
Read More

See Solvvy in Action
Learn more about how Solvvy can resolve your greatest customer experience issues. Contact us day or night and we will get back to you right away! Call us at 650-246-9685.
Live Demo
Contact Us